Sustainable Waterloo Region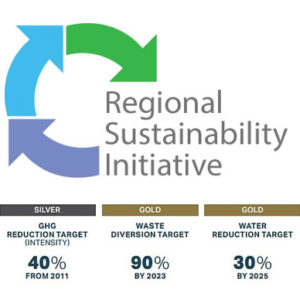 AET is proud to be a member of the Regional Sustainability Initiative, which is a voluntary carbon reduction framework led by Sustainable Waterloo Region (SWR).
SWR is a not-for-profit organization that encourages collaboration and enables local organizations to convert their sustainability interests into action. As a Tri-Pledging Partner in the Regional Sustainability Initiative, AET has made a public commitment to:
Reduce our greenhouse gas (GHG) emissions by 100% by 2030
Reduce our water usage by 30% below 2013 levels by 2025
Increase our landfill waste diversion to 90% by 2023
Originally, AET was involved in the Regional Carbon Initiative.  It was a trailblazing community of local organizations making strategic decisions to reduce Waterloo Region's GHG emissions by 42,550 tonnes.  As the program has grown and evolved, both SWR and AET recognized the need to consider our environmental impact beyond carbon.
We believe that managing our impacts on water, waste and climate change are important to ensuring the well-being for future generations of leaders in the Kitchener-Waterloo Region.  Incorporating sustainability into all our decisions has put AET on the cutting edge by cutting costs, lowering our overall environmental impact, building a sustainable business, and being on the front line of Green Innovation.
In April 2017, AET was honoured to receive our third consecutive Most Engaged Green Team Award, and the third consecutive Carbon Challenge Championship.
Some of our key environmentally sustainable initiatives include:
Renovating and expanding on an old farmhouse to create a highly energy efficient office building. Special features include a clear well for natural light, a living wall to purify the air, high resistance insulation to reduce heating needs, and re-purposed building material used directly in its construction.
Developing an innovative method for tracking commuting mileage – a window pops up on employees' computer screens when they log in every morning, which captures mileage and carpooling data.
Implementing policies to help employees reduce commuting emissions, including a telecommuting policy and a sustainable transportation policy that provides incentives to promote healthier commuting methods such as biking and public transit.
Developing a waste diversion tracking system to stay on top of our waste reduction goals. We currently divert 100% of our organic waste through a Green Bin program.
Upgrading our company fleet to more fuel-efficient vehicles including the purchase of 2 plug-in hybrids and the installation of a dual-head electric vehicle charging station.
Installing a bio-swale and raingarden to reduce storm water being directed into the storm sewer by as much as 30%
Developing 1% for the Trees, an annual tree planting program that provides 1% of annual profits to planting trees across the Country.
Installation of a 15.45kw solar photovoltaic system including on-site battery storage to provide power to the office during power outages.
Implementing other green policies to promote sustainable living, including a purchasing policy, printing policy, and water conservation policy.