2016 SWR Reporting – Behind The Numbers
September 25, 2017
With the release of Sustainable Waterloo Region's Annual Report, it is time to look back at 2016 and discuss our performance.   It was a very busy year for our President and CEO, Scott Freiburger and the Sustainability Team as many planned projects were moving forward quite nicely.   Our head office in Kitchener, ON has always had a lot of character, but it was getting a bit small for our quickly growing company.  One of our biggest achievements was getting the green light on Project Evergreen: Office Expansion.
Not only did the expansion provide AET with the opportunity to give each employee their own workspace, extra storage space, more amenities, and a fresh look, it also provided us with a fantastic opportunity to show we "walk the talk" in environmental circles.  Ownership put forward a design that included a living wall to clean and beautify the indoors, natural day lighting, LED lighting, reclaimed wood and brick, and an Einstein space to get our creative juices flowing. The Sustainability Team worked hard to get Project Evergreen off the ground.
Now, let's take a look at how all our actions and initiatives have affected our numbers.
TOTAL CARBON EMISSION
AET has seen its carbon emissions decrease in 2016 despite having more staff.  We are expecting our intensity-based numbers to better reflect these improvements.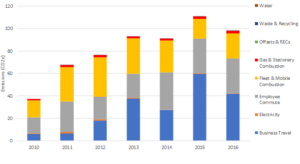 One of our greatest challenges remains to be travelling and commuting (fleet, business travel and employee commuting).  We continued to apply several previous initiatives to reduce our travel related outputs; our telecommuting policy and carpooling programs avoided approximately 30,000 km and 20,000 km respectively.  However, business travel and fleet travel have been much more difficult to address due to the nature of our work.
WATER USE
The installation of our new bio-swale in 2016 had a significant impact on the volume, in total cubic meters, of water leaving the property throughout the year. The bio-swale funnels water into a garden along the side of our parking lot, which allows infiltration into the soil and ground rather than the city's sewer system.  With our consistently low quantities of wastewater and tap water consumption and improved stormwater management, we are nearing our water reduction target of 30%.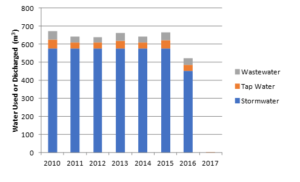 WASTE & RECYCLING
At first glance, you may be surprised by the large increase of waste generated in 2016. In 2015, 338 kg of waste was generated and in 2016, this number jumped to 3310 kg (nearly a 10-fold increase). This increase was caused by our renovations that have been underway.  AET has been tracking the waste generated by the renovations (Project Evergreen).  It accounts for the huge difference. Diversion has also dropped to 78% from 86% last year, which again, was a consequence of Project Evergreen.

When the building materials are excluded from our 2016 numbers, AET saw an increase in our waste generation numbers (418 kg) along with an increase in our diversion rate (90%).   In fact, AET has experienced a steady decline in landfilled waste since our base year of 2013 despite increasing staff numbers.

Project Evergreen – Construction Waste
During the renovations, Scott and the Sustainability Team had contractors make full efforts to salvage, recycle and re-use as much construction material as possible.  We really have to thank Lasso Construction for their hard work and careful execution, and Max for scrubbing the paint off all the bricks on the former exterior of the office!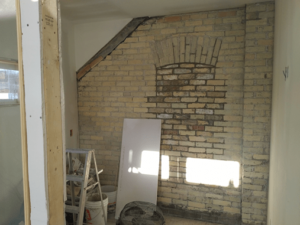 At the end of 2016, a total of 2220 kg of construction waste was saved from the landfill and 671 kg was not recoverable. As a result, we achieved a diversion rate of 77%.  To put this number into context, the Sustainable Cities Institute reports that only 20-30% of construction waste is recycled annually.